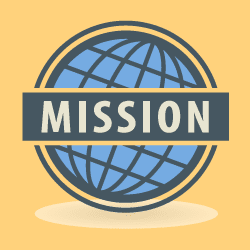 Writing an association mission statement isn't difficult; the key is to make sure you have a clear understanding of what it is (and isn't). Keep yours simple, make it compelling, and ensure it's measurable and remains relevant.
Mission statements for associations are essential to planning and can be as short as one sentence, or a brief paragraph.
EXAMPLES:
PayPal: "To build the Web's most convenient, secure, cost-effective payment solution."
Trip Advisor: "To help people around the world plan and have the perfect trip."
Coca-Cola: "To refresh the world in mind, body, and spirit. To inspire moments of optimism and happiness through our brands and actions."
Walt Disney: "To be one of the world's leading producers and providers of entertainment and information. Using our portfolio of brands to differentiate our content, services, and consumer products, we seek to develop the most creative, innovative, and profitable entertainment experiences and related products in the world."
Get tips for developing your association's SWOT analysis »
A mission statement is not the same as a vision statement.
Essentially, a Mission Statement defines an organization's identity (who we are) and purpose (what we do); it's in the present and doesn't change. Conversely, a Vision Statement is about promoting growth and setting goals; it's forward-thinking (where we want to be) and can evolve and change.
Practice by taking a run at writing your own, personal mission statement about yourself. It should be unique, clear, and succinct. It's a quick way to learn and it can be fun. What have you got to lose?
How to Write an effective Association Mission Statement in six easy steps. »
SEE ALSO: